Home Office Lighting Tips
With more and more people working from home than ever before, it is wise to invest in good office lighting to boost work productivity and efficiency.
Whether you have set up your office using the nook under your stairs or converted the spare bedroom, this space is now your devoted home office. Good lighting is a key success factor in establishing a productive work flow whilst maximising outputs, keeping you and your boss happy.
But having poor lighting often is the cause of energy reduction, eyestrain, headaches and overall reduces your ability to work effectively.
So, what is the key to good lighting in a home office?
Applying a range of lighting solutions into your work space will be beneficial in completing a wide range of tasks.
Taking time to prepare your workstation with the correct lighting will serve long term benefits such as;
Reduce fatigue and headaches
Minimise eye strain and discomfort
Increase mood
Motivate and encourage productivity
Guarantee you a pay rise at your next yearly review
The team at Voltfix Electrical have collated some tips to help you perfect your home office lighting and boost your productivity and efficiency.
Natural Lighting
The best office designs usually have large windows, atriums and skylights to bring daylight in, and your home office should be no different.
Windows and skylights provide views of the outdoors that can reduce eyestrain and make your work environment more enjoyable and productive. Where possible, position your desk near a window, with the chair facing the view.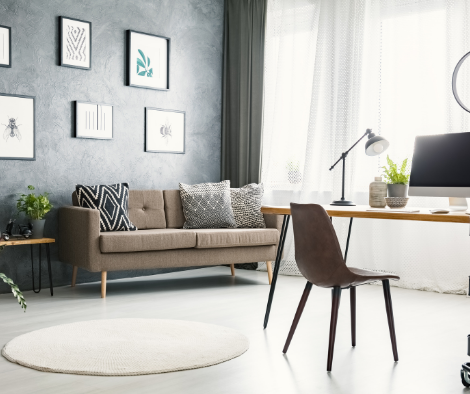 Task Lighting
We need directed light to help us see what we're doing (task lighting). Adjustable lamps can bring illumination right to where you need it most. Think lamps and LED strip lighting where its needed.
Change it up
Spending long hours in a static lighting environment can be harmful to our health. Our bodies require lighting environments that change – we need more light in the mornings and less in the evenings.
If your work schedule varies, add lighting that adapts to your needs and changes based on the time of day. Having multiple layers of illumination, including indirect ambient light and task lighting as well as dimmers, can help you customise your lighting environment in your office.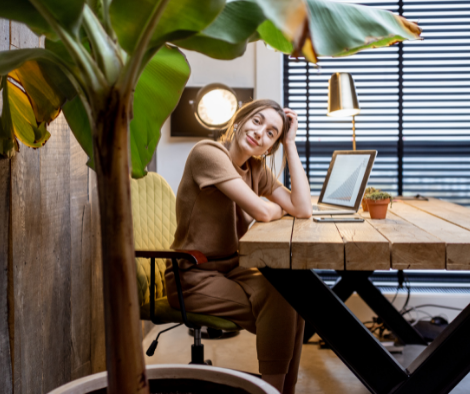 Comfort plus
Just because we use our home office space for work doesn't mean they should be not be comfortable. Proper lighting is the key to setting the scene for a relaxing work environment. Accent lights, lamps, pendants and wall sconces can all improve a room's mood and comfort level.
Conclusion
With proper and better home office lighting, you reap the benefits by increasing your work productivity.
At Voltfix Electrical we can conduct lighting installation such as LEDs, dimmers, and security lights. Moreover, we provide top-grade light repairs and upgrades. Our lighting and commercial electricians are experts who have serviced Brisbane for decades. With our bespoke lighting methods and first-rate installation services, we guarantee you that your home office will be as productive as possible.
Do you need office lighting tips? Call us on 1300 500 832.