Tips to Reduce Summer Electricity Power Bills
Summers call for beach parties, sipping drinks by the pool, and the perfect chance to get outdoors and enjoy your hobbies. As delightful as the weather is, it comes with a cost. Blistering summer heat causes increased use of air conditioning units and cooling systems, with higher demands for electricity. This results in high energy bills breaking you into a sweat as if you weren't drenched already.
Around 50 per cent of the household energy expenditure is caused by appliances, either heating or cooling your home.
In the Covid Winter of 2020 Energy supplier Red Energy said the average household has increased their energy usage by 10 to 15 per cent. Just imagine how much it will increase in summer if the new work at home trend continues.
Here are a few tricks and ideas requiring minimal work that allow you to save on your energy bill, while also contributing to saving the world.
1.  Keep Your Cooling System Clean
For an air conditioning device to operate effectively, it is important to inspect its filters, coils, and fins regularly. To put it plainly, a clean air conditioner is a powerful one.
Routinely removing or cleaning their filters is the most important piece of upkeep that will guarantee the maximisation of your air conditioner. Clogged and filthy filters block normal ventilation and drastically decrease the performance of a system.
Replacing a dirty, clogged filter with a fresh one will reduce the energy usage of your air conditioner by 5 per cent to 15 per cent.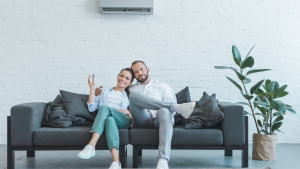 2.  Switch It Off
Switching off your AC while you're asleep will also lead to tremendous savings.
Try to set the thermostat at 26o C at all times. For each degree, the thermostat or air conditioner is lowered, there is a 4 to 8 per cent hike in the energy bills.
You can also try to switch off the AC during the cooler parts of the day, such as at night.
3.  Block Out the Light
Homeowners can also use rotating fans, removable window tints, and portable room blackening blinds, to stay cool especially during summer days.
For someone who rents their room and cannot make permanent improvements to the windows or air conditioning systems, choosing portable cooling devices and drawing the curtains or blinds during the hottest hours of the day can be a life-saver.
4.  Go Green
This one is a complete bonus for all the plant enthusiasts out there.
For a perfectly evident cause, cultivating plants and other kinds of greenery around your house is a flawless way to make your household cooler. It offers shade which reduces the temperature. Plus, it's always worth adding trees and flowers around your window if you live in an apartment.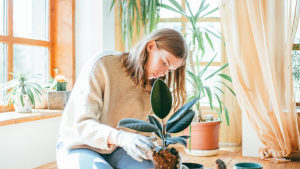 Remember, a little bit of self-control goes a long way. You can see more tips here 
A great resource can also be found here: Efficiency and Conservation: Just About Every Way to Save Energy at Home and in the Office
At Voltfix Electrical, we have an experienced team of qualified technicians and can help you with your commercial, domestic and industrial electrical needs. Call us today at 1300 500 832 to schedule an appointment.